About Us
Saffron Indian Takeaway is a Indian takeaway in Birtley. Why don't you try our Pasanda or Chicken Dansak?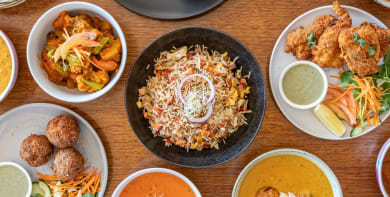 Reviews
145 reviews
Josh
"People this is a delicious Indian takeaway! They don't let you down and bring your food quickly which is a massivveeeee help when I'm hungry!"
17/01/2021
Ian
"Excellent service. Good food. Would recommend."
16/01/2021
Gav
"Superb meal, Sri Lanka king prawn curry. Keema Nann, spicy chips, pilau and prawn bhaji."
16/01/2021
pj
"Absolutely spot on"
31/12/2020
Menu
Butter Chicken Tikka
Cubed pieces of chicken tikka marinated in light spices & served in a very mild creamy sauce
£6.95
Jal Jul Rashun
Chicken tikka cooked with authentic herbs, spices & oriental seasoning. Garnished with onions, tomatoes, coriander & plenty of chopped garlic & naga sauce giving it a hot flavoursome taste
£6.95
Hirali
Sliced chicken tikka marinated with herbs & spices & then cooked with garlic, ginger, green chilli, coriander, pinch of sugar, cream & spinach. The dish is distinctive in colour hence the name hirali (greenery)
£6.95
Zeel Tikka
Chicken tikka cooked with onions, peppers, jalapenos & fresh chilli in a bhuna style
£6.95
Chingri Saag
Prawns cooked in mixed spices & spinach
£6.50
Saffron Mishali
A hot dish cooked with chicken tikka & seekh kebab
Hot
£7.20
Chicken Tikka Garlic & Chilli
Diced pieces of chicken tikka, fresh sliced garlic, tomatoes, green chillies, herbs & spices
£6.50
Chilli Chicken Tikka Masala
Diced pieces of chicken tikka cooked in a sauce made with a delicate blend of aromatic spices & herbs, use of fresh green chillies adds a fiery taste & aroma
£5.95
Shahee Tukra
Chicken tikka cooked with finely chopped onions, green peppers, fresh garlic & fresh chillies
Madras hot
£7.00
Rezala Chicken Tikka
Madras hot
£5.95
Sylhet Chicken
Cooked with boiled egg, naga sauce & potatoes
£6.50
Bangalore Phall Chicken
Extremely hot
£6.50
Singapore Chicken Curry
Very hot cooked with bhindi
Very hot
£5.50
Garlic Chicken Tikka
Bhuna style
£6.95
Butter Chicken Tikka
Pieces of boneless tandoori chicken cooked with a buttery mild sauce
£5.50
Bombay Chicken
Similar to bhuna, served with roasted potatoes & tomatoes
Fairly hot
£5.95
Murgh Masala
Served with rice of your choice
Medium spicy
£9.95
Mixed Curry
Chicken, beef & prawn
£6.95
Mixed Rogan
Chicken, beef & prawns
£6.95
Special Mixed Biryani
Chicken, beef & prawns
£9.95
Malayan Special King Prawn
£8.95
Mixed Malayan
Chicken, beef & prawns
£6.50
Medium Curry Chicken Tikka
Mixed Dansak
Chicken, beef & prawns
£6.95
Sag Aloo
Spinach & potato
£2.95
Chana Aloo
Chickpeas & potatoes
£3.60
Aloo Gobi
Potatoes & cauliflower
£2.95
Onion Bhaji
With salad & mint sauce
£2.50
Pickle Tray
Onion salad, mango chutney, lime & chilli pickle
£2.50
Mixed Madras
Chicken, beef & prawns
£6.95
Mixed Vindaloo
Chicken, beef & prawns
£6.95
Mixed Bhuna
Chicken, beef & prawns
£6.95
Mixed Vegetable Sri Lanka
£4.60
Garlic Chicken Tikka (Dry)
£6.95
Chicken Tikka Sizzler
Fairly hot
£6.95
Mixed Dupiaza
Chicken, beef & prawns
£6.95
Mixed Jalfrezi
Chicken, beef & prawns
£6.95
Mixed Korma
Chicken, beef & prawns
£6.95
Thursday & Sunday Special Nights
8 Course meal. Please choose one from each section
Starter:
Onion bhaji, chicken chaat, seekh kebab, chicken tikka, aloo chaat, prawn cocktail, vegetable pakora or Bhuna Prawn on Puree
Main dishes:
Beef, chicken or chicken tikka with: medium curry, madras, vindaloo, bhuna, Sri Lanka, balti, dupiaza, masala, Malayan, korma, Kashmiri
Rice dishes:
Mushroom pilau, vegetable pilau, onion pilau, keema pilau, plain pilau, boiled rice, garlic naan
Vegetable bhaji or mushroom bhaji
Plain naan or chips
Poppadoms
Mango chutney
Onion salad
£11.95
Wednesday Night Special For 2 People Regular
2 x Poppadoms, onion salad & mango chutney
Choose 2 starters:
Onion bhaji, chicken chaat, seekh kebab, chicken tikka, aloo chaat, prawn cocktail, vegetable pakora
Choose main meals: any 2 traditional curries
Choice of: Bombay aloo or vegetable bhaji or mushroom bhaji
Any rice & plain naan (add 70p for other naans)
£16.90
Wednesday Night Special For 2 People Other Curry
2 x Poppadoms, onion salad & mango chutney
Choose 2 starters:
Onion bhaji, chicken chaat, seekh kebab, chicken tikka, aloo chaat, prawn cocktail, vegetable pakora
Choose main meals: any 2 traditional curries
Choice of: Bombay aloo or vegetable bhaji or mushroom bhaji
Any rice & plain naan (add 70p for other naans)
£21.90
Contact Us
Find Us
7 Arndale House,Durham Road, Birtley, DH32PG
We deliver to
DH2, DH3, DH9, NE11, NE37, NE38, NE9