About Us
Saffron Indian Takeaway is a Indian takeaway in Birtley. Why don't you try our Pasanda or Chicken Dansak?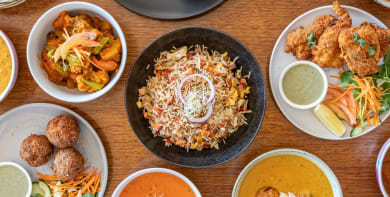 Reviews
139 reviews
Gav
"Sri Lanka curry, really nice, got more poppadoms than ordered. Arrived early and hot."
02/08/2020
Susan
"First time I've used and was lovely will definitely use again"
16/07/2020
steph
"Was very nice myself & son enjoyed it"
12/07/2020
Ann
"Always an excellent meal with good service"
26/06/2020
Menu
Butter Chicken Tikka
Cubed pieces of chicken tikka marinated in light spices & served in a very mild creamy sauce
£6.95
Jal Jul Rashun
Chicken tikka cooked with authentic herbs, spices & oriental seasoning. Garnished with onions, tomatoes, coriander & plenty of chopped garlic & naga sauce giving it a hot flavoursome taste
£6.95
Hirali
Sliced chicken tikka marinated with herbs & spices & then cooked with garlic, ginger, green chilli, coriander, pinch of sugar, cream & spinach. The dish is distinctive in colour hence the name hirali (greenery)
£6.95
Zeel Tikka
Chicken tikka cooked with onions, peppers, jalapenos & fresh chilli in a bhuna style
£6.95
Chingri Saag
Prawns cooked in mixed spices & spinach
£6.50
Saffron Mishali
A hot dish cooked with chicken tikka & seekh kebab
Hot
£7.20
Chicken Tikka Garlic & Chilli
Diced pieces of chicken tikka, fresh sliced garlic, tomatoes, green chillies, herbs & spices
£6.50
Chilli Chicken Tikka Masala
Diced pieces of chicken tikka cooked in a sauce made with a delicate blend of aromatic spices & herbs, use of fresh green chillies adds a fiery taste & aroma
£5.95
Shahee Tukra
Chicken tikka cooked with finely chopped onions, green peppers, fresh garlic & fresh chillies
Madras hot
£7.00
Rezala Chicken Tikka
Madras hot
£5.95
Sylhet Chicken
Cooked with boiled egg, naga sauce & potatoes
£6.50
Bangalore Phall Chicken
Extremely hot
£6.50
Singapore Chicken Curry
Very hot cooked with bhindi
Very hot
£5.50
Garlic Chicken Tikka
Bhuna style
£6.95
Butter Chicken Tikka
Pieces of boneless tandoori chicken cooked with a buttery mild sauce
£5.50
Bombay Chicken
Similar to bhuna, served with roasted potatoes & tomatoes
Fairly hot
£5.95
Murgh Masala
Served with rice of your choice
Medium spicy
£9.95
Mixed Curry
Chicken, beef & prawn
£6.95
Mixed Rogan
Chicken, beef & prawns
£6.95
Special Mixed Biryani
Chicken, beef & prawns
£9.95
Malayan Special King Prawn
£8.95
Mixed Malayan
Chicken, beef & prawns
£6.50
Medium Curry Chicken Tikka
Mixed Dansak
Chicken, beef & prawns
£6.95
Sag Aloo
Spinach & potato
£2.95
Chana Aloo
Chickpeas & potatoes
£3.60
Aloo Gobi
Potatoes & cauliflower
£2.95
Onion Bhaji
With salad & mint sauce
£2.50
Pickle Tray
Onion salad, mango chutney, lime & chilli pickle
£2.50
Mixed Madras
Chicken, beef & prawns
£6.95
Mixed Vindaloo
Chicken, beef & prawns
£6.95
Mixed Bhuna
Chicken, beef & prawns
£6.95
Mixed Vegetable Sri Lanka
£4.60
Garlic Chicken Tikka (Dry)
£6.95
Chicken Tikka Sizzler
Fairly hot
£6.95
Mixed Dupiaza
Chicken, beef & prawns
£6.95
Mixed Jalfrezi
Chicken, beef & prawns
£6.95
Mixed Korma
Chicken, beef & prawns
£6.95
Thursday & Sunday Special Nights
8 Course meal. Please choose one from each section
Starter:
Onion bhaji, chicken chaat, seekh kebab, chicken tikka, aloo chaat, prawn cocktail, vegetable pakora or Bhuna Prawn on Puree
Main dishes:
Beef, chicken or chicken tikka with: medium curry, madras, vindaloo, bhuna, Sri Lanka, balti, dupiaza, masala, Malayan, korma, Kashmiri
Rice dishes:
Mushroom pilau, vegetable pilau, onion pilau, keema pilau, plain pilau, boiled rice, garlic naan
Vegetable bhaji or mushroom bhaji
Plain naan or chips
Poppadoms
Mango chutney
Onion salad
£9.95
Wednesday Night Special For 2 People Regular
2 x Poppadoms, onion salad & mango chutney
Choose 2 starters:
Onion bhaji, chicken chaat, seekh kebab, chicken tikka, aloo chaat, prawn cocktail, vegetable pakora
Choose main meals: any 2 traditional curries
Choice of: Bombay aloo or vegetable bhaji or mushroom bhaji
Any rice & plain naan (add 70p for other naans)
£16.90
Wednesday Night Special For 2 People Other Curry
2 x Poppadoms, onion salad & mango chutney
Choose 2 starters:
Onion bhaji, chicken chaat, seekh kebab, chicken tikka, aloo chaat, prawn cocktail, vegetable pakora
Choose main meals: any 2 traditional curries
Choice of: Bombay aloo or vegetable bhaji or mushroom bhaji
Any rice & plain naan (add 70p for other naans)
£21.90
Contact Us
Find Us
7 Arndale House,Durham Road, Birtley, DH32PG
We deliver to
DH2, DH3, DH9, NE10, NE11, NE37, NE38, NE8, NE9